About Us
An Edible DQ® Encyclopedia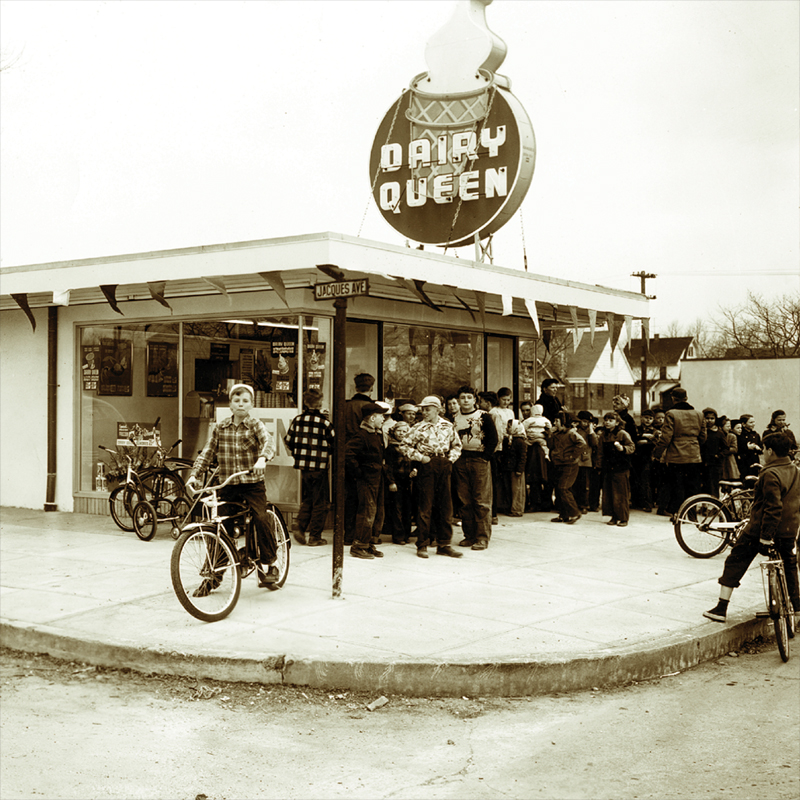 American Dairy Queen Corporation is a subsidiary of Berkshire Hathaway, Inc. 
DQ®
 operators have been providing consumers with crave-satisfying treats and food since 1940. See below for information regarding:  
History
,
Children's Miracle Network Hospitals
, 
DQ® Cares Product Grant Program
, & 
Local Community Partnerships.
History
The founders of the 
Dairy Queen®
 system were men and women who introduced a new kind of dessert treat and, in the process, developed the foundation of the franchising industry. The history of the 
DQ®
 system is a story of a unique product that created an industry.
A Story of Sweet Success
For more than 70 years, the DQ® system's recipe for success has been simple. It's been a combination of hardworking people who own and operate restaurants, and great-tasting food and tempting treats served in our establishments.
Our phenomenal story began with the 10-cent sale of a then unnamed product on August 4, 1938, in Kankakee, Illinois. A father and son partnership in Green River, Illinois, had been experimenting with a soft frozen dairy product for some time. They contacted Sherb Noble, a good friend and customer, who agreed to run the "all you can eat" trial sale at his walk-in ice cream store. Within two hours, he dished out more than 1,600 servings of the new dessert.
Back then, food franchising was all but unheard of, but the new product's potential made it a natural for such a system. When the United States entered World War II in December 1941, there were fewer than 10 Dairy Queen® stores. However, shortly after the war, the system took off at a pace virtually unrivaled before or since. With only 100 stores in 1947, it grew to 1,446 in 1950 and then to 2,600 in 1955. Today, the DQ® system is one of the largest fast food systems in the world, with more than 6,000 restaurants in the United States, Canada and 18 other countries.
Although much has changed in the world and in the DQ® system through the years, one constant has remained: DQ® restaurants are still, and always have been, the place to find kids' sports teams celebrating a victory, business people on their lunch break and families taking time out to enjoy great food and soft serve treats. And success for the DQ® system is as simple today as it was in 1940. Satisfied customers lead to successful restaurants. Each owner of our independently owned and operated establishments worldwide is committed to nothing less than the "So Good It's RiDQulous®" slogan.
Highlights of the DQ® system include:
1940: First Dairy Queen® store opens in Joliet, Illinois.
1949: DQ® introduces malts and shakes.
1951: Banana splits appear on the menu.
1953: First DQ® store opens in Canada.
1955: The Dilly® Bar debuts.
1957: The Dairy Queen®/Brazier® concept is introduced.
1958: The Dairy Queen®/Brazier® food products are introduced.
1961: The Mr. Misty® slush treat cools throats in the warm South.
1962: International Dairy Queen, Inc. (IDQ) is formed.
1965: First national radio advertising sends DQ® message 169 million times a week.
1966: First national TV commercial, "Live a Little," is aired.
1968: The Buster Bar® Treat bursts forth.
1972: First DQ® store opens in Japan.
1973: Say the word "Scrumpdillyishus®!" and get a Peanut Buster® Parfait for 49 cents.
1979: The DQ® system debuts in the Middle East.
1980: "We Treat You Right®" tagline debuts.
1985: More than 175 million Blizzard® Treats sold in its first year.
1989: Dairy Queen® ranked America's number one treat chain.
1991: First DQ® store opens in Mexico.
1995: DQ® Treatzza Pizza® and the Chicken Strip Basket make their debut.
1999: Pecan Mudslide® Treat is introduced.
1999: An operator of several DQ® locations in Massachusetts builds the world's largest blended treat, weighing in at 5,316.6 pounds.
2001: Crispy Chicken Salad is introduced.
2001: The first DQ Grill & Chill® restaurant opens in Chattanooga, Tennessee.
2002: Mark Cuban, owner of the NBA Dallas Mavericks, becomes manager of a DQ® location in Texas for the day.
2003: The Blizzard® of the Month program kicks off.
2004: The MooLatte® Frozen Coffee Flavored Beverage line debuts in Mocha, Vanilla and Caramel flavors.
2004: Award-winning Dairy Queen® commercials can be seen throughout the country in the system's first full year of national advertising.
2005: GrillBurgers™ are introduced to consumers on national TV.
2005: The record is broken on June 21, when a new World's Largest Blizzard® Treat is built in Springfield, Massachusetts. It weighs 8,224.85 pounds and is 22 feet tall.